Tungsten Nut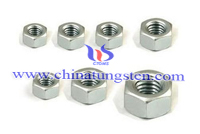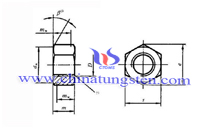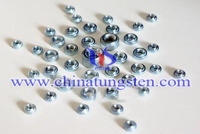 Tungsten nut is made of tungsten with purity over 99.95%, and density over 19.0g/cm3 which is to connect two machinery parts with inner holes by its thread and applied with tungsten bolt. Mostly nuts are hexagonal nut and quadrangle, and has been standard specifications. Currently, there are more generic GB (GB), German standard (DIN), International Standards (ISO), the Japanese standard (JIS), American Standard (ASTM / ANSI). Among them, the national standard, German standard, the standard represented by M (for example, M8, M16), American, British is expressed as a fraction or # size (such as 8, # 10, 1 / 4,3 / 8).
Nuts and bolts are a set, and they can not be used separately when to connect metal or other material parts together. Generally speaking, the material applied to produce nuts and bolts should be the name, so that they can fix each other during operation. Specifications also need to fix, such as M4-P0.7 nut only with M4-P0.7 series of bolt connections (in the nut, M4 refers to the inner diameter of the nut is about 4mm, 0.7 refers to the thread between the two distance is 0.7mm); US-made products also, for example, 1 / 4-20 nut only 1 / 4-20 screw with (1/4 refers to an inner diameter of about 0.25 inches nut, 20 refers to every inch, there 20 teeth).
Nut can be used in wide indutries, such as automotive, compressors, construction machinery, wind power generation equipment, agricultural machinery, foundry industry, drilling equipment, shipbuilding industry, military, mining equipment, oil drilling rigs (onshore or offshore), utilities , rail transportation, transmission, metallurgical equipment and jack hammers.
Tungsten nut is a kind of special nuts, which is widely used in high temperature furnace by applying its high temperature resistance and high melting point. Its working temperature can be over 1200 ℃.
If there is any interest in pure tungsten products, please feel free to contact us through the following methods.
Email: sales@chinatungsten.com
Tel.: +86 592 512 9696/+86 592 512 9595/+86 592 512 7878
Fax:+86 592 512 9797
More info>>